Politics, religion and strong-held viewpoints cause divisiveness in the workplace, and if carried too far, can lead to violence. During the 2016 election, one in four employees were negatively affected by political talk at work, experiencing stress, lower productivity, avoidance of colleagues, and feelings of isolation. Make sure your employees know:
Freedom of speech (1st Amendment) does NOT apply to opinions expressed in private businesses.
Employers are required to protect ALL employees from harassment involving race, religion, national origin, sex, age, disability, or veteran status. (This is almost the opposite of freedom of speech, because hateful or derogatory speech or actions must be stopped by the employer.)
Employees have limited protection for their political activities. They are protected from retaliation against political activities IF the activity involves workplace issues (i.e. workplace conditions or safety) through the NLRA National Labor Relations Act.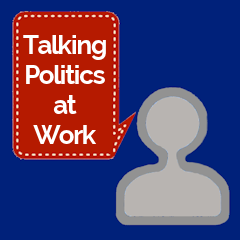 Make sure your Employee Handbook has policies that:
Prohibit harassment of any kind. Example:

First Amendment rights do not apply to opinions expressed in private workplaces. All workplace speech — political or otherwise — must be respectful, accommodating and tolerant of others' views. Our anti-harassment policy expresses our commitment to maintain a workplace that is free of harassment, so our employees can feel safe and happy. We will not tolerate anyone intimidating, humiliating or sabotaging others in our workplace. We also prohibit willful discrimination based on age, sex, national origin, race, religion, veteran, or disability.

Disallows posting of items that may be considered offensive (including political signs) at the workplace. Example:

We encourage all of our employees to take an active interest and participate in political affairs. However, political activities may not be conducted on facility premises. You should not identify yourself as a representative of (your business name) in any political activity, nor in any letter to any news source. You may not post or distribute political, religious, or any item that may be considered offensive on facility premises.

Has procedures if an employee feels (s)he is being harassed. Example:

If you feel you are being harassed, report it immediately to your supervisor.
Encourage your employees to express their opinions at the ballot box and not at work. Remember that it is illegal for you, the business owner, to make derogatory comments involving race, religion, national origin, sex, age, disability, or veteran status. For employee letters and more HR policies, click here: Managing Workplace Issues During an Election Year